I know I haven't posted in a while, but that doesn't mean that nothing has been going on out in the garden! I have recorded much progress with the vegetable garden, the flower gardens, and the fruit trees and will be posting regularly now. My daughter wanted me to show this to you first.
A Robin has made a nest and laid eggs in our peach tree (she laid a third egg after this picture was taken). My daughter is very excited and watches the momma bird with binoculars. The problem is that I was in the process of staking my fruit trees because they are leaning a bit. Guess I'll have to wait at least a few more weeks to straighten this tree.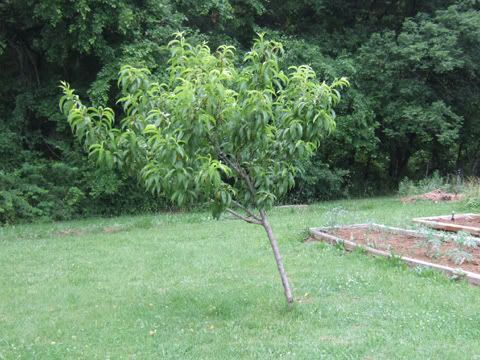 I did manage to straighten an apple tree that is next to this peach. I didn't even see the birds nest. Children are much better at noticing such things. The nest is low - right at my daughter's eye level. It has a nice foundation of eight or nine half-size peaches.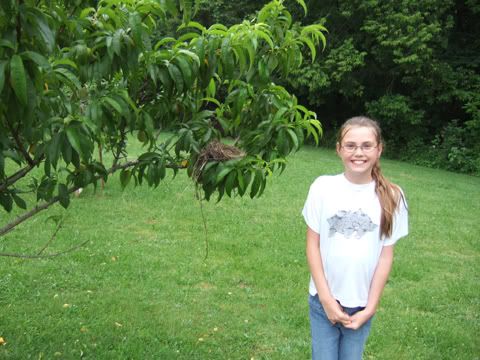 Look at how low and wide open the nest is. We are a bit worried about predetors. My daughter is praying for those baby birds, but it may take a miracle to keep a hawk or something from spotting them. Is there anything that we can do to help their fate? From researching Robins we think the eggs should hatch around June 24th or so. We'll keep you posted on how they are doing.