I apologize that it has been three long weeks since I have blogged here or added anything to Veggie Garden Info. As some of you already knew, for the past three years my dad had been battling prostate cancer, bone cancer and eventually even brain cancer. I had to take this time off from blogging and from work to be with him in his last days. His body finally gave up the fight last Friday, September 7th.
Although he is now absent from this earth, he is present with the Lord in heaven! I rejoice in that fact but even still it has been a sad time for me and my family.
I have always looked up to my dad. Even though he wasn't much taller than me, I've always thought of him as a giant with a giant heart. He was always an avid non-fiction reader and always said that you could learn how to do anything from reading. Almost 20 years ago, I took his advice and decided to learn about something I knew nothing about - organic gardening.
My mom had introduced me to vegetable gardening as a boy, but at that time I viewed it as all work and no fun. Just after college, I began reading every gardening book the library had and then put into practice what I learned. So now, I will think of my dad when I'm out in the garden.
Speaking of the love of reading, the love of gardening and of giants - I want to mention the new book by Susan Warren called "Backyard Giants: The Passionate, Heartbreaking, and Glorious Quest to Grow the Biggest Pumpkin Ever."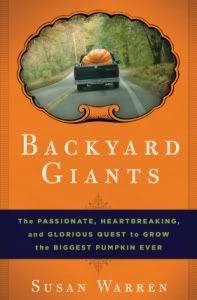 I was thrilled to receive an advanced reading copy a few weeks ago to review, but I haven't been able to finish the book or to write the review yet. I love the book so far and I can't wait to learn the outcome.
I feel bad about not posting a review like I promised, so for now I will direct you to Backyard Giants reviews by some of my favorite bloggers: Michelle at My Grandpa's Garden Stuart at Gardening Tips 'n' Ideas Steven at Dirt Sun Rain Emma at Garden-Ideas Colleen at In The Garden Online Hannah at This Garden is Illegal Genie at The Inadvertent Gardener Carol at May Dreams Gardens (Her comments about the book are at the end of this post)
Kenny from Veggie Gardening Tips went one step further and actually had the author, Susan Warren, as a guest writer. She discusses her own attempt to grow giant pumpkins.
I look forward to finishing the book. Pumpkins of any size are indeed fun! I think my pumpkins are too far behind thanks to my groundhog (still at large, by the way). Even though I probably won't get ripe pumpkins this year, I am enjoying the big blooms - the only thing blooming right now.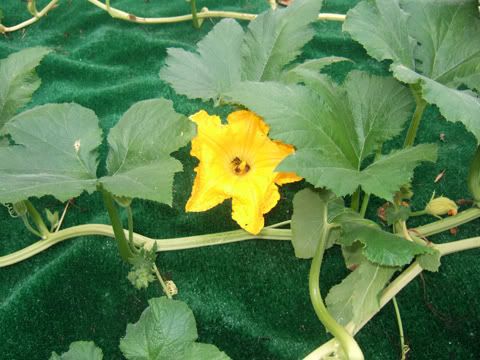 Thank you to all of you who have been worrying about me in my absence. Special thanks to Kenny, Curtis and Emma for the emails (which I have just got).
I will try to get back to posting regularly and managing Veggie Garden Info as well. It is still difficult to focus on things other than family right now, so bear with me if I'm slow in getting back to it. :)