My family and I love to eat Chinese food, and since there is a new Chinese take-out restaurant in our town, we've been eating it more than we probably should. Of course, the kid in me always likes getting the fortune cookie after stuffing myself.
Most of the time I don't pay much attention to the actual fortune, but this time I did a double-take!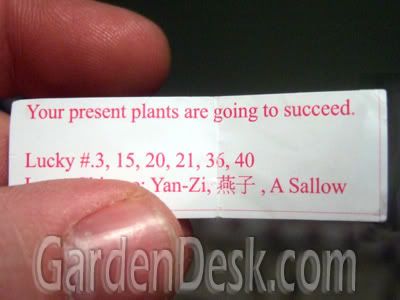 It says "Your present plants are going to succeed."
Wow, that is so great! How did it know that I've already started my extra-early tomato plants under lights?
That has to be a typo, right? It makes me think - wouldn't it be a great idea to have fortune cookies for gardeners? Think of all the great advice they could give. Maybe I got the first fortune cookie for gardeners. Or maybe it is supposed to read "Your present plans are going to succeed." I am planning quite a bit for the garden this year, so I'd take that as well.
I guess this means the year ahead will be a great one. My plants or my plans will succeed!
This fortune can be for all of you as well. So make plans and grow plants; they're sure to succeed! Hey, the cookie says so. :)