Over the past two days the weather here in Kentucky has been crazy. We received 6 inches of snow, then a half inch of ice and then 5 more inches of snow!
We don't usually get so much snow and ice so we wanted to make sure the greenhouse was okay. Ever since we saw on Throwback At Trapper Creek how snow can collapse a greenhouse structure, we have wondered how our new greenhouse would hold up. There is nothing growing in it yet, and the vents (windows) are still opened to allow the wind to flow through. Unfortunately that means there is no heat being generated to help melt the snow cover.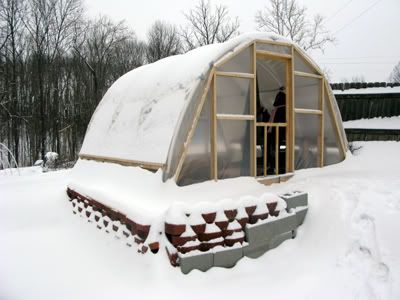 After the first 6 inches of snow, we could already see that the plastic was beginning to buckle under the weight.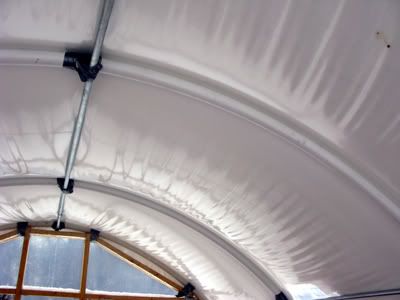 So we decided to knock the snow off and the whole family pitched in.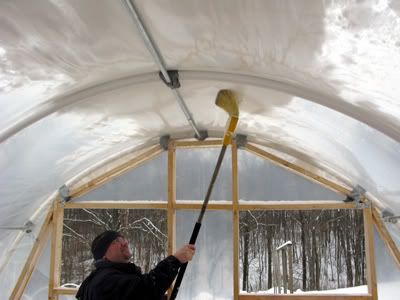 Overnight the snow turned to freezing rain and ice. In the morning, the hoop house was covered in a half inch sheet of ice.
Again I had to use the broom to clean off the plastic. Removing the ice was easier because in broke into big pieces and slid right off.
Just about the time I finished with the ice, the snow picked up again at the rate of 2 inches per hour! When it finally stopped we visited the greenhouse a third time. By now the pile of snow and ice was getting pretty large. Luckily I had plenty of help clearing it away...
... as well as removing the rest of the ice.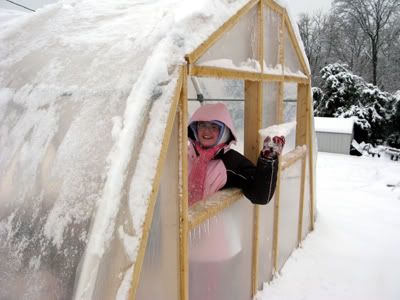 After the work was done, there was plenty of time for fun!
Is it Spring yet?