One of the things I love about having a vegetable garden is that for the rest of the summer you can harvest fresh veggies for dinner.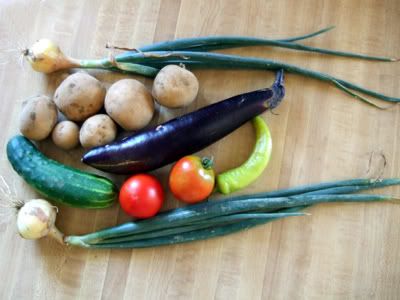 I'm not talking about the big harvests of beans or tomatoes or zucchini that occur. I'm talking about having the ability to pick just enough for that days meals. My daughter enjoyed harvesting all of this but she thought the composition of my picture was all wrong. She rearranged the veggies to look like this: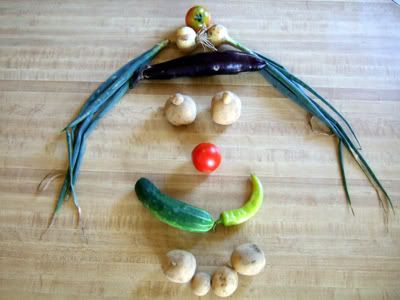 She's right, that looks better.
Either way they are arranged, these vegetables will be eaten by my family in two meals. The eggplant is going into spaghetti sauce for a meal. The tomatoes, cucumber and pepper went into last nights salad and the potatoes and onions were cooked with a ham. The only thing that would have been better is if we had our own fresh green beans to go with it. We are growing beans, but they were planted late.
Its probably a good thing that I was late in planting so many things because I wouldn't have time for a big harvest right now. I have still been spending quite a bit of time with my Dad, helping him wherever I can since he is in the latter stages of cancer. When I do have time, the garden is a great place to go to get cheered up. Especially now that my wife weeded it (since I haven't done that enough) and since my daughter enjoys it too. Hopefully soon she can harvest another smiley face!