You never know where you might find a fun garden-related item. I usually start looking at all of the garden centers this time of year to try to find a cure for my Spring Fever. Every once in a while you discover something when and where you're not even looking. This happened to me last weekend when my family went to Michael's craft store because my daughter was looking for something to use on her American Girl Doll website. That's where I found these cool little "Eye Grow" plants at Michael's.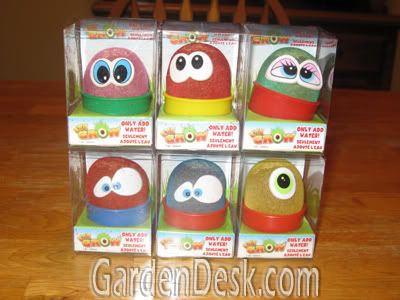 The "heads" are actually a nylon mesh filled with soil. The top of head is contains ryegrass seeds that grow to become the hair.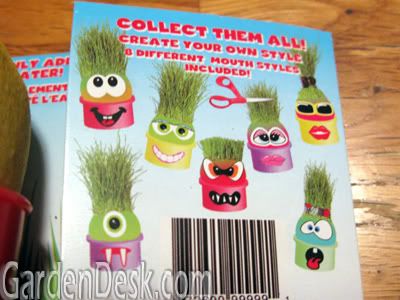 These remind me of the Chia Pets a little, but I like these Eye Grows better. I think they are more fun for kids because they are pretty cheap and very colorful with big cartoon-like eyes. Each one comes with a sticker sheet of mouths so you can design the expression yourself.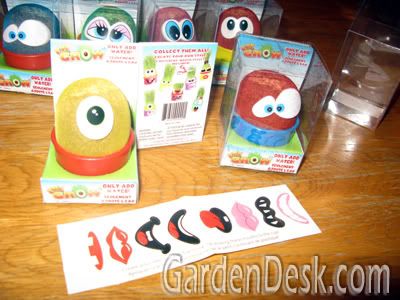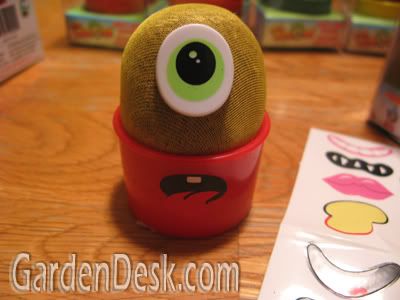 I searched the Internet to find out more about them and found nothing. The company listed on the Eye Grow boxes is Sourcing International. When I searched for Sourcing International, all I found is a site about their Grow-A-Head products. Here is one of the pictures from that site, their grow-a-pets:
I've never seen these before. It's strange that they don't mention their Eye Grow products at all. I couldn't find any references to the eye-grow anywhere on the Internet.
I can't wait to start these growing. I am giving some of them to my niece and nephew, but I will post pictures of the ones we keep as soon as their grass hair has grown out. These are perfect for a little Winter gardening fun. A year or so ago, we had fun with the Magic Sproutz secret message plants in a similar way. Come to think of it, I haven't been able to find those again either.
So what do you think about the Eye Grow plants? Has anyone else seen these? Would you buy them if you saw them, or am I just a big kid for thinking they are cool? I'd love to hear your thoughts!