I often feel like I write too much about my tomato endeavors here, but I have been asked in a comment and in emails about the status of my extra-early tomato plants. If you agree that I write too many tomato posts, I apologize. Its just that there is a bit of satisfaction in trying to beat mother nature and coax something along to an early harvest. For me (and for those asking me to write this), that obsession lies with tomatoes! It is fun to get to eat a nice juicy organic garden fresh tomato a full month earlier than your neighbors. Its even more fun to have enough early tomatoes to share with you neighbors.
So that is what I am shooting for this year. Last year I only grew two early tomato plants. This year I will have a lot more - at least 12. As of now, I have about 30 plants growing under lights. Last year, I raised only Early Girl tomatoes as my early variety. This year I am trying six different varieties. Last year my goal was to have ripe tomatoes by June 24th (my birthday), and got the first ripe tomato on June 15th! This year I am hoping for May 31st!
So how am I doing? Is that goal possible? I'm really not sure. I do feel like I'm further behind than I should be. I started the first seeds on Valentine's Day and I stuck to my holiday theme by transplanting tomato seedlings yesterday on Easter.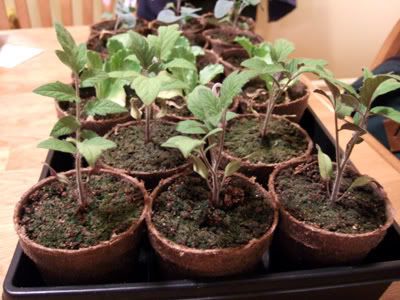 The problem is that I wasn't able to start all the early varieties at the same time. I only started Early Girl and New Girl on February 14th. They were transplanted to peat pots on February 28th. I started Orange Blossom and 4th of July on February 17th, but didn't get them transplanted to peat pots until March 10th! The last of my early varieties are Sub Arctic and Siletz. Those seeds didn't come in until late, so they were seeded on February 28th and transplanted to peat pots yesterday, March 23rd. Here is an example of the size difference between the plants transplanted on February 28th and the ones transplanted yesterday.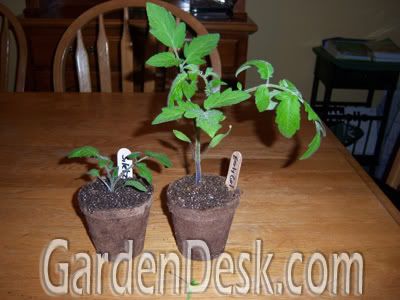 Big difference. Originally I wanted to grow several different varieties to find out which one is the best early tomato. As you can see, scientifically I have failed all of the varieties except Early Girl and New Girl. They are the only ones that might still be on pace. For them, yesterday was time to transplant again. For this third step they get put into CD spindle covers that are about 7 inches deep. They need to have holes drilled in them first for drainage.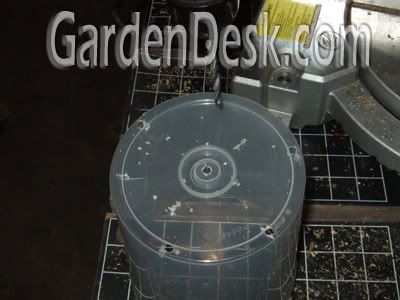 These are great containers for this purpose because they are big enough in diameter and taller than a conventional 4 inch pot. This is great for tomatoes because each time you transplant a tomato plant, you want to plant it deeper than what it was in the pot it came from. You can bury the entire stem up to the first true leaves because roots grow from the buried stem which makes the plant stronger. Here is a before-after comparison of a plant in the peat pot and then in the CD pot.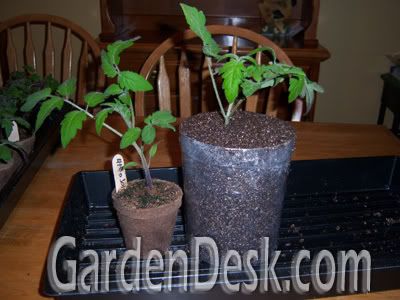 So am I far enough along to be fortunate enough to harvest before June 1st? That is two full weeks earlier than last year. Judging solely by my indoor transplanting schedule, I don't think I'm two weeks ahead of last year. Where I hope to make up ground is in the outdoor preparation.
I have two raised beds from last year that I will be planting these early tomatoes in. I have put black plastic on the soil to begin warming it. I also plan to erect a frame down the middle of the beds to be able to drape 6 mil clear plastic over. The frame that I'm talking about will look just like the wood of my pea trellis. Later, I will use the wood frame to support the plants like my tomato towers from last year.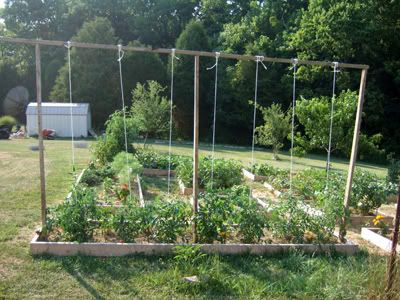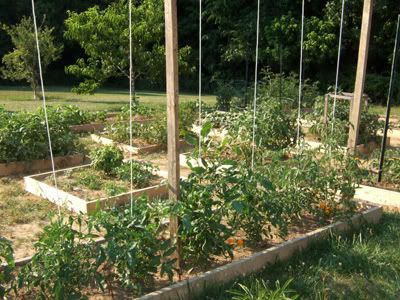 But now I'm getting ahead of myself. Hopefully the plants will be put out by the middle of April. Our average last frost date is May 15th, so even with extra protection I will have to watch the weather.
Is this all too much trouble just to reap ripe tomatoes a month or so early? Not if you are a tomato fanatic like me!
I'll let you know more as it develops.