Now that the regular season for Major League Baseball has officially begun, I guess it is time to introduce The 2008 GardenDesk Growers Baseball team!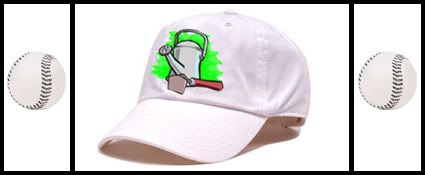 Okay, I know a garden is not a baseball team, but just like in spring training, I have spent a lot of time figuring out which vegetable varieties will make the cut this year. In addition to which particular varieties I will plant, I had to decide which vegetables needed to be cut (I just don't have enough room on the field!). Last year my total area for the veg garden was 25'x40', all in raised beds. This year I am expanding it to 40'x48'but the outside 15' will be planted in old fashioned rows. I have painstakenly tried to fit everything in using graph paper but I still don't have enough space.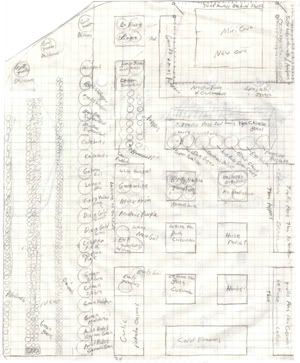 Sorry, I know you can't read the names listed on the graph paper. Just like last year, I have divided up the list into the following categories: Tomatoes, Cool Season, Main Season, Herbs, Decorations and Fruit. First I need to mention the veggies that I would like to grow but didn't make the cut.
This year's honorable mentions are: sweet potatoes, okra, leeks, beets and field pumpkins.
Now, the 2008 starting lineup
Introducing the GardenDesk Heirloom Tomatoes:
Aunt Ruby's German Green
Black Cherry
Black Krim
Brandywine
Brandywine (Glick's strain)
Caspian Pink
Delicious
Dixie Golden Giant
Egg Yolk
Furry Yellow Hog
Great White
Green Moldovan
Green Zebra
Kellogg's Breakfast
Kentucky Beefsteak
Pink Flamingo Ukranian
Principe Borghese
Prudens Purple
White Tomesol
The GardenDesk Hybrid Tomatoes:
4th of July
Burpee's Supersteak
Celebrity
Early Girl
Golden Girl
La Rossa
Lemon Boy
New Girl
Orange Blossom
Park's Whopper
Roma
Siletz
Sub Artic
Introducing the GardenDesk Cool Season Players (many are already on the field!):
Potato Onions
Garlic
Peas
Broccoli-Green Goliath
Purple Cauliflower-Violet Queen
Radish-Cherry Belle, Easter Egg
Carrot-Short-n-Sweet, , Easter Egg
Swiss Chard-Five Color Silverbeet
Spinich-Space Hybrid, Melody Hybrid, Bloomsdale Long Standing
Head Lettuce-Summertime, Tom Thumb
Leaf Lettuce- Simpson Elite, Buttercrunch, Prizeleaf, Royal Oak Leaf, Lollo Rossa, Salad Bowl, Red Salad Bowl, Black Seeded Simpson, Mesclun Sweet Salad Mix, Pinetree Lettuce Mix
Oriental Greens-Komatsuma Tendergreen
Cabbage
And now for your Main Season GardenDeskers:
Bush Green Beans-Tender Pick, Blue Lake Bush 274
Pole Beans-Kentucky Wonder
Cucumber-Park's Whopper, Straight 8, Burpee Bush
Squash-Vegetable Spaghetti
Zucchini-Ambassador, Longo Bianco
Onion-Red, White, Yellow Spanish
Potato-Kennebec, Russet Burbank
Bell Pepper-Park's Colossal Hybrid
Give it up for the GardenDesk Herbs:
Basil
Purple Basil
Oregeno
Chives
Thyme
Mint
Nasturtium
Horseradish
Next up, the GardenDesk Decoration Dudes:
Pumpkin-Jack Be Little
Gourds-Bird House Mix, Penguin, Assorted Gourd Mix
Sunflowers
And last but not least, the fruit selections:
Watermelon-Sugar Baby
Cantalope-Ambrosia
Strawberries-Cavendish and others
Blueberries-Jersey and others
Grapes (new)
Apples-Red Delicious, Golden Delicioius
Peaches
There will also be many annual flowers planted in the vegetable garden. This is my daughter's area and she has not given me her line-up card yet. I know there will be plenty of marigolds, cosmos, zinnias and morning glories.
And there you have it ... The comprehensive list of players for GardenDesk 2008! Several players are already on the field. Many players have begun warming up inside under grow lights. More will soon join them. Stay tuned for more updates on the pending season and players! Will they all actually get in the game? Will they hit a homerun, or will some strike out? Many questions will soon be answered.
What does your 2008 "player list" consist of? What vegetables will you be growing that I have left off my list? Are you as anxious to get started as I am?
Dum dum da dum da dum .... CHARGE!