Around here gardeners like to plan events in the garden according to Holidays. St. Patrick's Day is when they say you should plant peas, so I dutifully built my pea trellises and planted peas last Sunday (the day before St. Patty's Day).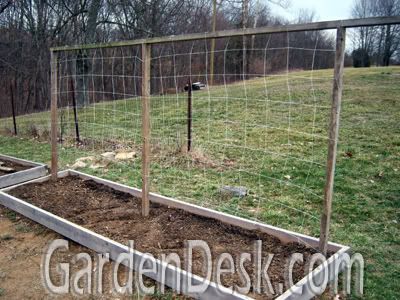 May Dreams Gardens is just a couple hours away from me and she planted peas on Sunday too.
Maybe it's not just around here where gardeners shoot for pea planting on the Irish holiday because peas were planted in Skippy's Vegetable Garden on St. Patrick's day too.
I also noticed that VegMonkey and Sustainable Garden have their peas up and growing already. I'm sure there are other bloggers who planted peas too.
Building the pea trellises are a big deal to me because I haven't been this organized in recent years. I also bought new trellis netting that has the large squares. I used to love it and am excited to have it again. After the peas are harvested I will grow cucumbers on one trellis and pole beans on the other, using the same netting.
I was able to "weave" the wood supports through the netting and I stapled the bottom part. Here is a picture that my wife sneaked of me finishing the first trellis: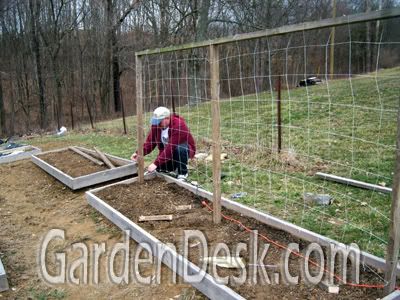 The bed behind me also received a trellis but it got dark before we could get a picture of them both.
If you don't want to spend the money on pre-made trellis netting, there is a great post on Backyard Granger about how to make your own with twine. There is another great explanation on how to make a trellis with wood and twine from last year on Compost Bin. Maybe someday I'll use twine but for now I'm content to use the ready-made trellis material.
I'm a bit proud of myself for building the trellis before I planted the peas. Usually I would go in reverse order and then "not have time" to build a trellis, leaving my peas a tangled mess with no support. So now I have built the two trellises and a coldframe. Here they are together: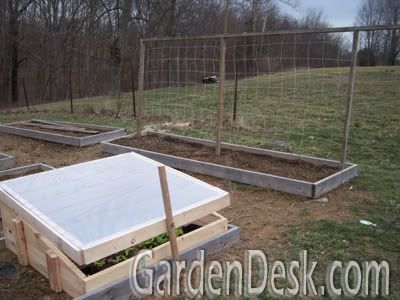 I love building garden structures. Next up? Something else I didn't manage to build last year - a fence to keep the coons out of my corn!
Tomorrow is the first day of Spring! How exciting!