There seems to be more interest in growing potatoes in a garbage can this year. I have seen several garden bloggers doing it. I don't remember them all, but my friends Tracy at Outside and Gina at My Skinny Garden both have good starts of potatoes in a can growing.
I am very pleased with the progress of my can-o-taters so far. The plants have reached the top of the can.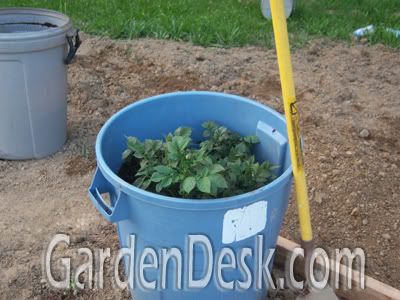 It has been easier this year because I had another can of good compost, peat and soil ready ahead of time. Last year I was always scrounging for some good growing medium. Soon I will add the rest of the soil mix and the can will be completely full. It will be good timing because the potato plants are beginning to bloom.
With this method, it is hard to rob the plant of "new" potatoes early in the season like I do with other planting methods.
With the garbage can potato method, I'll wait for the plants to die back, dump the can over and harvest a whole lot of spuds!
After the can is full of soil, the only thing for me to do for the rest of the summer is to be sure they stay well watered. Then its time for baked potatoes, mashed potatoes, home made french fries, scalloped potatoes, potatoes au gratin, hash brown potatoes .....