I like to try new things in the garden. Every year I find new things to grow and new methods to try. One of the "experiments" this year was trying to maximize yield by growing potatoes in a garbage can. I have been receiving many questions about the status of these potatoes. Well, we finally knocked over the can to see if it worked.
The idea is that you plant the seed potatoes down in the bottom of the can. As the plants grow, you fill more soil around them. Eventually, the can is filled to the top with soil and the plants are growing out of the top like this: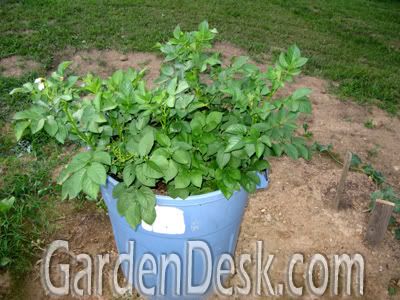 With proper nutrients and moisture, the potato plants send out new tuber growth all along the buried stems. The hope is that at harvest time, the garbage can would be filled with potatoes. You can see my first two posts about this idea here and here.
So it is finally time to harvest these garbage can potatoes. Here we go: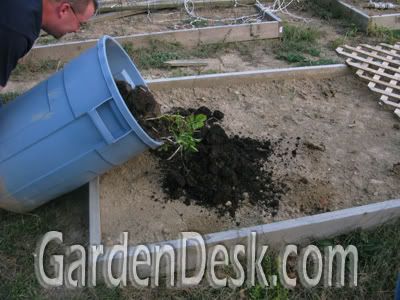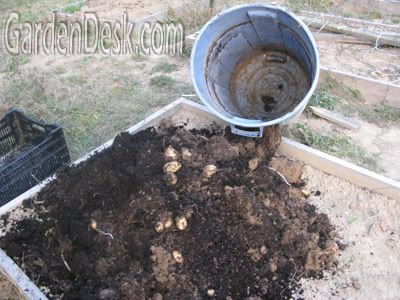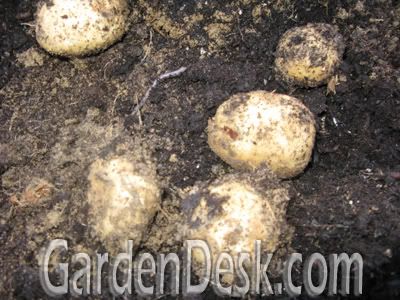 Wow, looks great doesn't it?
I could stop with the above pictures and say that everyone should switch to this method, but I won't. I always say that the purpose of this blog is to document happenings in my organic garden - to report what works and what doesn't.
Writing about what works is more fun, but this potato can actually didn't work very well. Here is a picture of the complete harvest: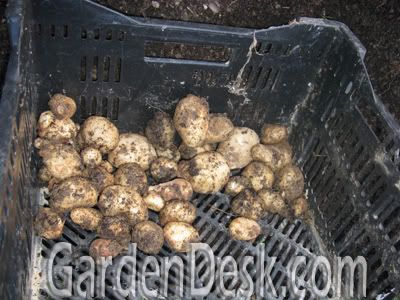 That's not any more than I would have gotten if I had just planted these potato plants in the ground. So what happened?
First of all, I had four or five plants growing out of the can in the first picture of this post. All but one plant died in July. This is what the can looked like before I knocked it over: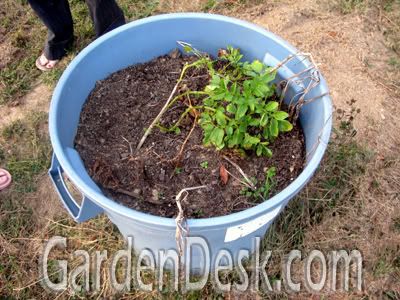 All of these puny little potatoes might have come from this one plant. The bigger problem I think I had was that the plants didn't get enough water. When I try it again next year (and I will), I think I should change my soil mix. This mix was mostly compost, peat and regular garden soil. Next year I will add sand and have much bigger drainage holes at the bottom of the can. I want to be able to water more often and more thoroughly without the worry of being too wet.
What about you? Do you have any ideas about how to make this concept work? I know it can work. We have done it before on a smaller scale. My daughter had success with this last year with potatoes in her garden bed by enclosing two plants with wood and raising the soil around them. I know other gardeners who have raised potatoes like this in tires and even in garbage cans. What is the secret? If you have had success with this, please let us know. I know I've read about this on other good blogs but I don't remember where. If you have posted about this, please share the link for us. And if you haven't written about it, but have had some success with potato growing like this, please give us some tips.
I'm sorry to say that I am not an expert on this yet (obviously), but together I think we can perfect this method. It does work - but how?