Much has been going on in the garden lately. I have planted broccoli, cabbage, lettuce, chard, peas, potatoes and my first installment of extra-early tomatoes outside. Inside has been even busier. I now have peppers, cucumbers, zucchini and over 100 tomato seedlings under the lights. The problem is that I still have 10 giant extra-early tomato plants also under the lights. Things were getting pretty crowded!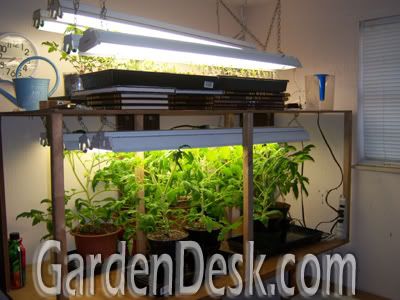 I couldn't fit everything in and I couldn't get the lower lights to go any higher. The plants were growing into and over the lights.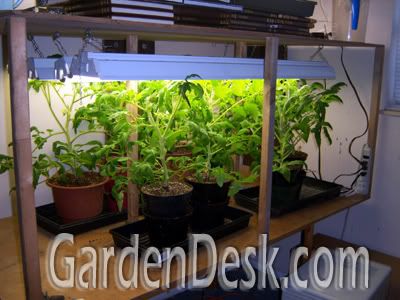 The only way to fix this without abandoning my extra-early tomato plan was to build a light stand annex. I rounded up another old table, some more hooks chains and shop lights and presto - a lovely annex on the other side of the room!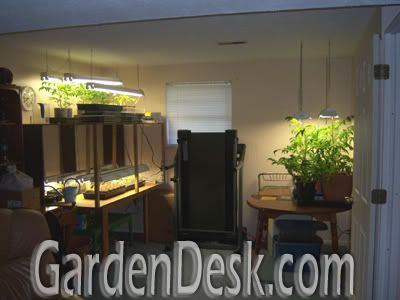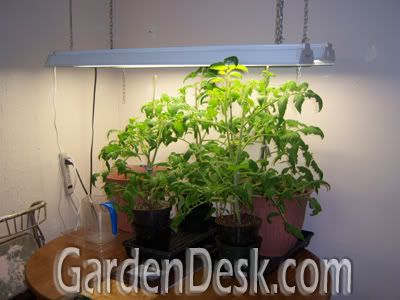 They are already growing up to touch the lights, but I can keep moving the lights up higher now.
Moving these plants around has reminded me that I never shared with you my creative container choices. Anything goes when I get into the larger pot size.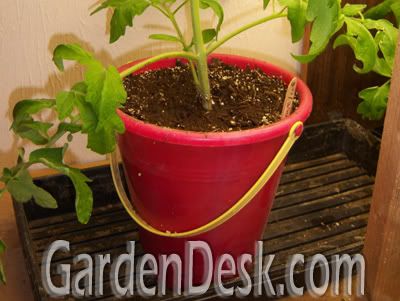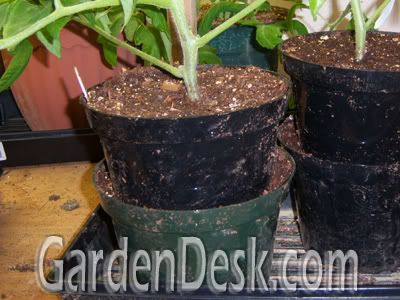 I won't be able to use these double pots again since I had to cut out the bottom. I have already planted some of these out in the garden and I had to completely cut away the pot to get the plant out. The sand pail is a better idea. Just remember, if you use something that wasn't originally intended to be a planter, you need to drill holes in the bottom for drainage. This sand bucket won't hold water anymore!
I have already transplanted five tomato plants in the prepared outside bed. Soon I will have pictures of them. They were Early Girl, New Girl, Orange Blossom, and two 4th of July plants. I did manage to put black plastic down over the bed to heat up the soil but I have not yet built my makeshift lean-to greenhouse to go over them. I haven't had to yet because it has been unseasonably warm this week in the mid 80's! Next week's weather will not be so tomato friendly though. It is supposed to only get to about 50 degrees with overnight lows in the 30s - yikes! That is why it is crazy to plant tomatoes outside here in April. I hope I can get my plastic up soon and it works!
In the meantime I will be potting up the inside tomatoes to even bigger containers. They are looking very happy in their cozy warm indoor environment.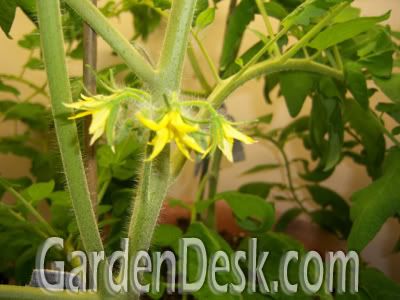 Too bad I can't grow them to fruit stage inside. Sooner or later they have to brave the elements outside. I am still dreaming of ripe tomatoes here in northern zone 5 by June 1st! Wish me luck!