I can't believe it has taken me a whole week to post this. Last Saturday, when we got home from vacation I took inventory on the garden happenings and wrote it all in my paper journal like the old days. I really do like paper records better than digital ones, but journaling on the computer allows one to post photos much easier.
So I think I will be journaling here at Garden Desk. These posts will be a bit different than my others because it will just be a list of how things are going. It may be more for me than for my readers, but you are welcome to read along. Maybe you can help me by commenting on how I could fix my problems or improve things.
So here goes, my first 2008 Garden Journal - 4/5/08:
I already wrote about the new potatoes I bought last week. I have been pretty frustrated with my peas. The germination rate is listed as 7 to 14 days but after 18 days there was still nothing. Finally, they are emerging!
In the pea beds, I transplanted the lettuce plants that I grew inside and hardened off in the cold frame.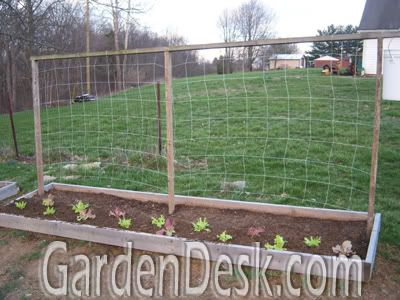 I was delighted to find that the beds were teeming with worms! I hope that means that the soil here is healthy.
Now the beds look prettier. I hope the lettuce grows bigger quickly.
Also growing well outside are potato onions and garlic. Inside, the early tomato plants were looking great.
Uh oh - upon closer inspection maybe not. What are these tiny spots on the Orange Blossom tomatoes?
I had no idea, but a gardener is only as good as his gardening book library. I hit the books and found out that I had Septoria Leaf Spot.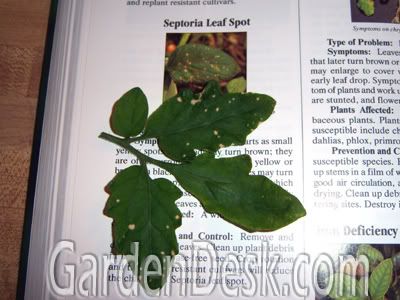 I found it in my trusty Organic Gardener's Handbook of Natural Insect and Disease Control: A Complete Problem-Solving Guide to Keeping Your Garden and Yard Healthy Without Chemicals
. It has an extremely long title, but it is also extremely helpful! It says that Septoria Leaf Spot is Fungal. The control is simply to remove and destroy infected leaves, so that is what I did. Now, a week later I'm happy to report that there are no new signs of the fungus. I will have to keep a close eye on them. Luckily it was only on three of the four Orange Blossom tomatoes and none of the others. Even if the Septoria leaf spot comes back and damages or destroys the Orange Blossom tomatoes, I have five other early varieties ready and will be raising almost 30 other varieties. I guess I could afford to lose one variety.