It has been a bit frustrating that I haven't gotten to plant much in the vegetable garden. Every minute of spare time lately has gone to building the deck. Many of you have been encouraging to me by your nice comments and questions concerning the deck's progress. Well, here's a photo update: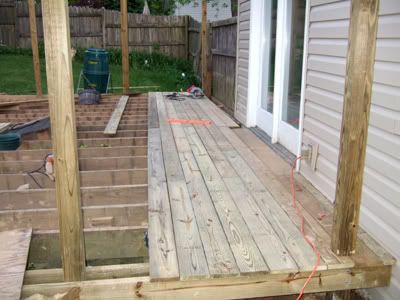 It is all framed in now, and I'm beginning to put on the actual decking! I'm really about twice as far as that last picture because I worked on it again tonight until after dark. My camping lantern puts out pretty much light!
I do get frustrated with how much time it takes, but my wonderful wife keeps reminding me that I'm building it all by myself. She also reminds me of what it used to look like. Here is the first photo we took back in March when I had just begun removing the old deck boards, followed by a repeat current photo (for comparison):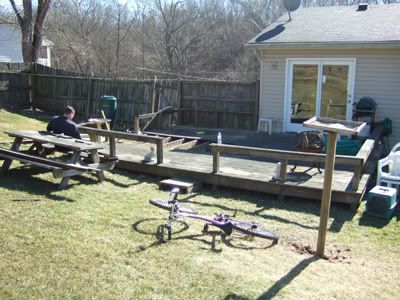 The old deck was rotting and wasn't level because it had no support beams under it. The new deck will be level and much larger!
I can't wait to sit out on it with a nice glass of lemonade and a garden-fresh bacon lettuce and tomato sandwich! As for the tomato, my extra early Early Girls are planted outside now!
The first official thing that I'm doing with the new deck (even before it is finished) is placing my other 20 tomato varieties out on it to harden off. I don't think I'll be able to wait for the deck commpletion to plant them, but I'm sure the deck will be finished before I get to eat them!