My family went grocery shopping yesterday and I was surprised and upset at how expensive fruit was, not to mention that the variety and quality was very poor. It made me remember the wonderful apples we had just four months ago. So this week's Green Thumb Sunday photos make me hungry!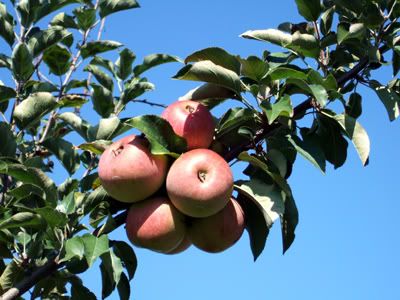 I wish I could say I grew these apples, but I can't. This past October, I did take these photos and I did pick and eat many of the apples pictured! I do have two apple trees of my own. Unfortunately, they did not produce very well last season so the family and I headed to Evans Apple Orchard in Georgetown Kentucky. They have a great pick your own apple orchard as well as many fun things for children.
We ate our fill in the orchard and took home bushels of apples. The children also enjoyed the pumpkins, some farm animals, a corn maze and a playground. They also had a giant slide perched high atop a mountain of hay bales. I didn't get a picture of the slide, but this next one was taken from the top of the slide.
I can't wait to go back this summer and fall. I wish I had one of those apples right now! I will have to settle for going outside and pruning the two apple trees that I have, and of course I will have to do what every gardener hates the most... wait.

Join